Earlier this summer, recreation therapist Tiffany Sceviour cut a cake for Willow Square Continuing Care Center resident Glen Docherty. Staff and residents celebrated the first anniversary of the Willow Square Continuing Care Centre. Photo provided.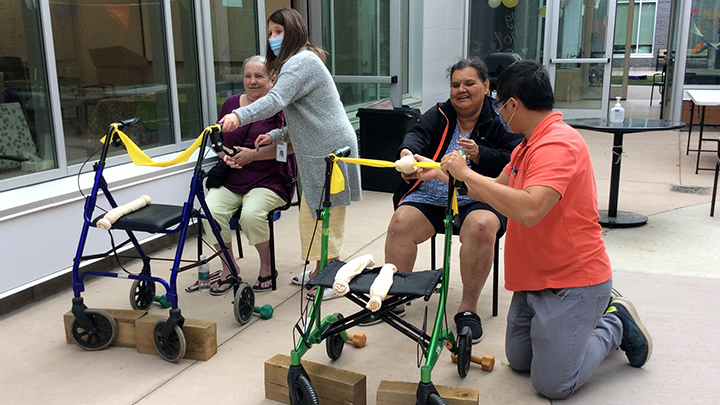 Willow Square Continuing Care Center residents Grace Wanderingspirit and Patricia Gabriel participate in a sling training game, with the help of AHS social work student Susan Greening and occupational therapist Kent Tsui. Photo provided.
"Our staff treats our employees as if they were treating their own mother and father"
History of Logan Clow
FORT McMURRAY — Residents and their families at Willow Square Continuing Care Center celebrated the facility's one-year anniversary with a delicious barbecue lunch and fun activities like mini-golf and slingshot practice.
Willow Square Allied Health staff planned the June 24 celebration, with support from Willow Square nurses, food and nutrition services staff and AHS volunteers. Where necessary, activities have been modified so that they can be enjoyed by residents of all abilities.
"While adhering to COVID-19 guidelines, this event was an opportunity for our Willow Square healthcare teams to come together to provide a joyful and fun celebration for residents," said Alanna Surprenant, Director of 'Allied Health, Fort McMurray.
"There was so much bonding between residents and staff. There was certainly a lot of laughter and smiles – and I think it was an enjoyable day for everyone."
The Willow Square Allied Health team supports residents with pain management, speech, hearing, mobility, rebuilding strength and other physical challenges.
"Having a dedicated paramedic team in Willow Square and regularly working collaboratively with other healthcare teams and staff — such as the one-year celebration — really improves the quality of life for residents," adds Surprising. "Our goal is to make living in Willow Square an enjoyable experience for them."
willow square officially open on June 23, 2021, welcoming 39 residents of the Northern Lights Regional Health Center (NLRHC) Continuing Care Unit.
The facility has 108 single rooms for private occupants, including 36 for long-term care and palliative care and 72 for supportive housing. There are six cabins designated for different levels of care – long-term care, supportive living, and memory/dementia care.
"Willow Square has become a home for our residents," says Darline Reid, Area 10 Manager, Seniors Health. "Our residents have settled in really well over the past year. They are happy, content and it has become a comfortable home atmosphere for them."
About 70 residents currently live in Willow Square, including Glen Docherty, a Fort McMurray resident who moved into Willow Square in July 2021.
"I like it here," Docherty says. "All the nursing staff are very helpful, courteous and ready to help you."
Willow Square offers a range of amenities including courtyards, gardens, library, cafe, hair salon, sensory room, medicine wheel room, rehab therapy rooms and multi-purpose rooms. The facility also has its own accessible bus that takes residents to community events and outings.
"When I go to do my rounds, the residents always tell me how much they love this place," says Juanita Pilgrim, assistant head nurse.
Reid and Pilgrim say residents of Willow Square enjoy many activities. Some enjoy socializing with other residents over coffee and feasting on coffee, visiting family and loved ones, going on bus rides, strolling in the outdoor courtyard, attending ceremonial activities in the hall Medicine Wheel, bake treats with the staff, and plant and maintain the garden.
Although COVID-19 has limited some of the activities and programs over the past year, other opportunities will be offered as deemed safe and appropriate.
"Willow Square provides a lot more space and opportunities for residents to socialize with their families, other residents, and participate in community activities and outings," Reid said.
Reid and Pilgrim say there have been several accomplishments at Willow Square since it opened, including a number of successful quality audits that ensure the safest care is provided to all Albertans who seek treatment there. AHS establishment.
"These audits were very successful, and it's a testament to the hard work of our on-site staff, including our 70 clinical support staff," Pilgrim said.
"Every day, our staff are committed to providing excellent supportive care. This is why our residents call Willow Square home. Our staff treat our residents as if they were treating their own mother and child. father, and it's really nice to see."
Reid also shares another success – helping two Willow Square residents living on support services return to the community for independent living. "If we can help someone and support them to the point where they feel comfortable enough to live independently in the community – because that's what they want to do and that's what 'he wishes – then it's a success,' she said. "And we are still able to provide them with support through services such as home care."
There is currently no waiting list for resident rooms in Willow Square.